Virtual event - DRC - Revised Mining Code, new national governance, and COVID-19: impacts on the human rights of local communities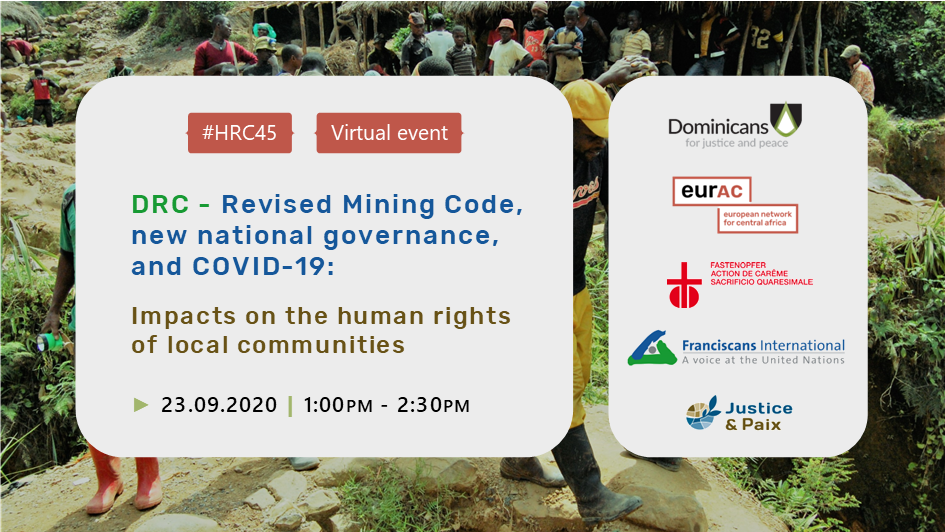 #HRC45 Virtual event | 23.09.2020 – 1:00 PM – 2:30 PM
The 45th session of the UN Human Rights Council (HRC45) will focus on the human rights situation in the Democratic Republic of the Congo (DRC). On this occasion, EurAc and its partners will host a webinar to raise awareness among States on the consequences of the poor implementation of the reformed Mining Code on human rights in the DRC.
The revision of the Mining Code in 2018 was a significant development in the protection of the fundamental rights of mining communities. However, more than two years after the adoption of the new legislation, fundamental rights in mining areas are still not fully respected because of poor governance coupled with textual inconsistencies. In a context aggravated by the crisis related to COVID-19, what observations can be made? What lessons can be learned? What directions should be taken? 
Programme
Overview of the major mining areas in the DRC: a disappointing assessment
The revised Mining Code: a perfectible legislative progress
Respect for fundamental rights in the mining sector should be at the centre of international discussions
Q&A
Speakers
Fabien Mayani, Extractive Industries Governance Programme Officer at Carter Center and Advocacy Programme Officer at Cordaid DRC
Emmanuel Umpula, AFREWATCH Executive Director 
Sister Célestine Sumanende OP, Head of work at the UniUélé and member of the Dominican Commission on Natural Resources
Gilbert Dhego, Project Officer and Assistant to the Justice and Peace Coordination at Caritas of the Diocese of Goma
Abdoul Aziz Thioye, Director United Nations Joint Office in the DRC
Moderated by Diane Crittin, DR Congo and Burkina Faso Programmes Officer, Fastenopfer
Practical information
The virtual event will take place on Wednesday 23 September 2020 from 1:00 PM to 2:30 PM.
Registration (mandatory): https://bit.ly/2R1u8fp
The event will be held in French with simultaneous translation into English. 
Organisers
Franciscans International, European Network for Central Africa (EurAc), Commission Justice & Paix Belgique, Dominicans for Justice and Peace, Fastenopfer
> Download the A5 flyer (PDF)