Jesuit European Social Centre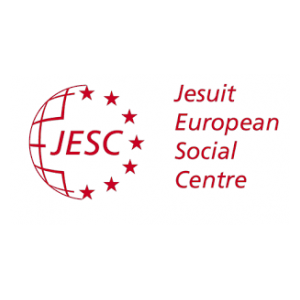 Jesuit European Social Centre
JESC is a separate apostolic and legal entity within the Conference of European Provincials. Through JESC, the Society of Jesus remains committed to a Europe where human rights, freedom and solidarity are the foundation of integration. Europe, especially the European Union, is currently undergoing the most acute political and economic crisis of its existence. While refusing alarmism, JESC continues, in line with its entire history, to seek a critical but constructive engagement with the EU.
Operationally, JESC has three areas of work:
European Affairs
Social Coordination
Advocacy/Projects
The organisation retains an institutional presence in Brussels to the EU Institutions, and with ecclesial and civil society organisations that relate to them. JESC also advocate on issues around corporate exploitation of natural resources in the Democratic Republic of Congo; on ecology, coordinating an international network which publishes the electronic newsletter 'Ecojesuit'; and through the 'Migration Desk', a service to Jesuits involved in the care of migrants. JESC wishes to embody a Jesuit European engagement which authentically expresses Christian faith, remains close to the poor and marginalised, analyses the social reality with competence, and advocates for justice in European political structures.
t des marginalisés, analyse la réalité sociale avec expertise et plaide pour la justice dans les structures politiques européennes.
Country(-ies) of operation/intervention in Central Africa:
Democratic Republic of the Congo (DRC)
Thematic areas of focus :
Natural Resources, Land conflict, Fight against impunity & reconciliation, Human rights, Environment and climate change